Anthony P Yang, MD
Joint Replacement & Orthopaedic Trauma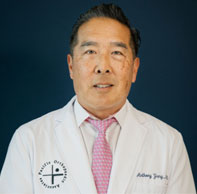 Anthony P. Yang, M.D. was born in Carbondale, IL and raised in San Luis Obispo, CA.
Dr. Yang specializes in Orthopaedic trauma, complex intra-articular fractures, joint replacement and resurfacing procedures, arthroscopic surgery, and general Orthopaedics.
Dr. Yang completed the UCR / UCLA Program in Biomedical Sciences and graduated from the UCLA School of Medicine. He completed an internship in General Surgery and a residency in Orthopaedic Surgery at the University Hospital at SUNY Stony Brook. He also completed a fellowship in Orthopaedic Traumatology at Cooper Hospital and the University of Pennsylvania.
Dr. Yang is board certified and is a fellow of the American Academy of Orthopaedic Surgeons. He has served on the Medical Executive Committee at Garfield Hospital Medical Center, on the Governing Board at Alhambra Hospital, and as Chairman of the Orthopaedic Subsection at Garfield Medical Center and San Gabriel Valley Medical Center. He is a Clinical Assistant Professor of Orthopaedic Surgery at Western University of Health Sciences.