Jonathan L Chang, MD
Sports Medicine & Arthroscopic Procedures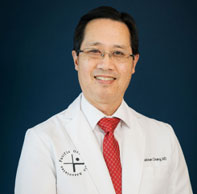 Jonathan L. Chang, MD was born in Lebanon, Pennsylvania and raised in multiple cities on the east coast.
Dr. Chang specializes in sports medicine and arthroscopic procedures.
Dr. Chang is a graduate from Duke University School of Medicine. He completed his residency in Orthopaedic Surgery at the University of Virginia Hospitals and his sports medicine fellowship at the University of Kentucky.
Dr. Chang is board certified and is a fellow of the American Academy of Orthopaedic surgeons. He is a former Clinical Associate Professor of Orthopaedic surgery at USC School of Medicine. He has served as the Chairman of the Orthopaedic Subsection at Garfield Medical Center and the Chief of Surgery at Alhambra Hospital.