Shane S Pak, MD
Orthopaedic Spine Surgery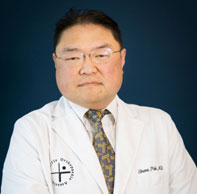 Shane S. Pak, MD was born in Seoul, Korea and raised in New Orleans, Louisiana.
Dr. Pak specializes in Spine Surgery of the neck and back.
Dr. Pak is a graduate from the John Hopkins University and received his medical degree from the University of Pennsylvania School of Medicine. He completed his Orthopaedic surgery internship and residency at the Union Memorial Hospital and the Johns Hopkins Medical Institutions in Baltimore, Maryland. He completed his Spinal Surgery Fellowship at Rush Presbyterian - St. Luke's Hospital/Shriner's Hospital in Chicago with Dr. Ronald DeWald – the oldest spine surgery fellowship program in the United States. He practiced spinal surgery in Baltimore from 2001 – 2007 and relocated to California in 2007.
Dr. Pak is board certified by the American Board of Orthopaedic Surgery and is an elected Fellow of the American Academy of Orthopaedic Surgeons. He is an Active Member of the North American Spine Society and was a guest lecturer at the Johns Hopkins Medical Institutions. He is currently the Chairman of Orthopaedic Surgery at San Gabriel Valley Medical Center.
In addition, Dr. Pak served as the consulting spine surgeon for the NFL Baltimore Ravens.
For more information about Dr. Pak, please click here.