Vu (Brian) Le, MD
Foot/Ankle Surgery & Orthopaedic Trauma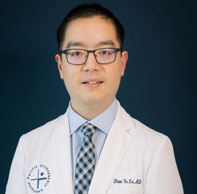 Dr. Le comes to us from Canada, where he obtained his medical doctorate degree at the renowned University of Toronto, one of the world's top medical schools. He then completed his Orthopaedic surgery training at the University of Ottawa in Canada's capital city. His interests led him to two additional years of fellowship training at the University of British Columbia; one year in complex adult orthopaedic trauma surgery, followed by a full year in the prestigious foot and ankle reconstruction program at St. Paul's Hospital in Vancouver, Canada.
Dr. Le's clinical expertise is in the comprehensive care of foot and ankle conditions both surgical and non-surgical. These include forefoot problems such as bunions and toe deformities, complex deformities such as flat feet or high arched feet, hindfoot problems such as ankle or subtalar arthritis, and athletic injuries such as ankle sprains or ligament and tendon tears. He also specializes in complex fractures and injuries of the lower and upper limbs. He has a particular interest in minimally-invasive or less-invasive surgical techniques.
Dr. Le is double board-certified, by both the Royal College of Physicians and Surgeons of Canada as well as the American Board of Orthopaedic Surgery. He currently serves as Adjunct Clinical Assistant Professor of Orthopaedic Surgery at the Keck School of Medicine of USC. He is an active committee member with AO North America, the Orthopaedic Trauma Association and USC Arcadia Hospital. He is a former committee chair with the San Gabriel Valley Medical Center, and a member of the American Orthopaedic Foot and Ankle Society, Canadian Orthopaedic Foot and Ankle Society, American Academy of Orthopaedic Surgeons, and Canadian Orthopaedic Association.
In his spare time, Dr. Le enjoys traveling, photography, movies, hiking, and camping. He is fluent in English and Vietnamese.
How is Dr. Vu Le different from a podiatrist? Click here