Vu (Brian) Le, MD
Foot/Ankle Surgery & Orthopaedic Trauma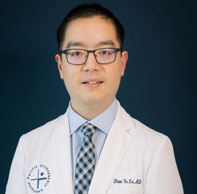 Dr. Le comes to us from Canada, where he obtained his medical doctorate degree at the renowned University of Toronto, one of the world's top medical schools. He then completed his Orthopaedic surgery training at the University of Ottawa in Canada's capital city. His interests led him to two additional years of fellowship training at the University of British Columbia; one year in complex adult Orthopaedic trauma surgery, followed by a full year in the prestigious foot and ankle reconstruction program at St. Paul's Hospital in Vancouver, Canada, under the mentorship of Drs. Alastair Younger, Murray Penner, Kevin Wing, and Andrea Veljkovic.
Dr. Le's clinical interests include the comprehensive care of foot and ankle conditions both surgical and non-surgical. These include forefoot problems such as bunions and toe deformities, complex deformities such as flat feet or high arch feet, hindfoot problems such as ankle or subtalar arthritis, and athletic injuries such as ankle sprains or ligament and tendon tears. He also has interests in minimally invasive surgery such as ankle arthroscopy, general musculoskeletal trauma, and complex periarticular limb fractures.
Dr. Le is double board-certified, by both the Royal College of Physicians and Surgeons of Canada as well as the American Board of Orthopaedic Surgery.
Dr. Le is a member of the American Orthopaedic Foot and Ankle Society, Canadian Orthopaedic Foot and Ankle Society, Orthopaedic Trauma Association, AO North America, American Academy of Orthopaedic Surgeons, and Canadian Orthopaedic Association. He is fluent in English and Vietnamese.
How is Dr. Vu Le different from a podiatrist? Click here