David W.P. Huang, MD
General Orthopaedic Surgery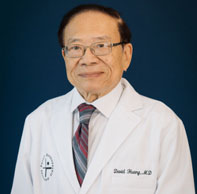 David W.P. Huang, MD was born and raised in Tainan, Taiwan.
Dr. Huang specializes in knee replacement surgery, Orthopaedic trauma, fractures, dislocations and peripheral nerve impingement as well as general Orthopaedics.
Dr. Huang is a graduate of Taipei Medical College and completed his residency in Orthopaedic Surgery at Tulane University. He is an active fellow of the American Academy of Orthopaedic Surgeons, and is a qualified medical Examiner in Orthopaedics in the State of California.
Dr. Huang is a Clinical Assistant Professor of Orthopaedic Surgery at Western University of Health Sciences. He has also served as Chief of Surgery at Garfield Medical Center and Chief of Staff at Alhambra Hospital.