Mark S Hsiao, MD, JD, MBA, FAAOS
Orthpaedic Spine Surgery, Sports Medicine, Foot And Ankle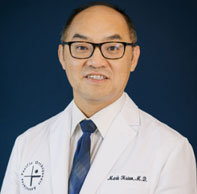 Dr. Mark Hsiao is a board-certified orthopaedic surgeon specializing in the surgical and non-surgical treatment of spinal disorders. Dr. Hsiao is committed to providing the most current, successful treatment options that help relieve pain and restore function to his patients.
Dr. Hsiao completed his undergraduate studies at the University of California, Irvine, and he received his medical doctorate from Creighton University in Omaha, Nebraska. After completing his medical doctorate, Dr. Hsiao entered active-duty military service and the orthopaedic surgery residency program at William Beaumont Army Medical Center/Texas Tech University Health Sciences Center in El Paso, Texas. As an officer in the U.S. Army, he served several overseas tours in the Pacific Rim and deployed to combat theater in Afghanistan as part of a Forward Surgical Team element in support of the Special Operations Task Force Operation Freedom's Sentinel in Fort Bragg, North Carolina.
During his time in the military, Dr. Hsiao had the honor of treating the country's wounded warriors and delivery critical orthopaedic surgical care to the Army's Ranger, Infantry, Paratroopers, and Armor Soldiers, Pentagon Personnel, and their families members. As part of his practice he delivered critical sports medicine, general orthopaedic, and foot and ankle care. Dr. Hsiao also provided care under the Executive Medicine department that brings world-class medical care to our nation's top leaders.
To further pursue his interest in orthopaedic spine disorders , Dr. Hsiao completed subspecialty training at one of the world's premier and busiest fellowships in Seattle, Washington. Dr. Hsiao spent his spine fellowship at The University of Washington at Harborview Medical Center studying under the famous Dr. Carlo Bellabarba, Dr. Richard Bransford, Dr. Haitao Zhou, and Dr. Viral Patel giving him expertise in his field of practice. Dr. Hsiao also gained additional lower extremity training under the guidance Dr. Troy Watson in the care of professional athletes at The Foot & Ankle Institute at Desert Orthopaedic Center.
In his free time, Dr. Hsiao enjoys spending time with his young family, running, cycling, trying new food, and traveling around the world. He was born and raised in Monrovia, Liberia (West Africa), and has been to six of the seven continents. Dr. Hsiao looks forward to his next trip with his family to meet new people and learn more about their stories and cultures. He is fluent in Mandarin.