Yen Hsun (Ernie) Chen, MD
Hand and Upper Extremity Surgery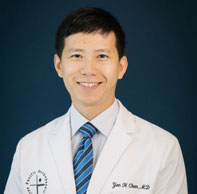 Yen Hsun (Ernie) Chen, M.D. is an Orthopaedic Surgeon with additional subspecialty fellowship training in Hand and Upper Extremity Surgery.
Dr. Chen was born in Taipei, Taiwan and grew up in southern California. Dr. Chen received his undergraduate degree in Materials Science and Engineering at Johns Hopkins University in Baltimore, MD, where he graduated with honors and was inducted into the Tau Beta Pi Engineering Honor Society. He then received his Doctor of Medicine with Honors in Research at Weill Cornell Medical College in New York, NY. During medical school, he also spent a year working at the Hospital for Special Surgery in New York, where he won a Young Investigator Award for his work in fracture healing. He went on to complete his Orthopaedic Surgery internship and residency at Northshore-LIJ at Northwell Health in New York. He returned to California to complete his Hand and Upper Extremity Fellowship at Loma Linda University Medical Center, where he underwent subspecialty training in the upper extremity from the shoulder to the hand, including treating traumatic high energy upper extremity injuries, mangled hands, and microvascular surgery.
Dr. Chen's clinical interests are of upper extremity conditions, including shoulder arthroscopy/arthroplasty, elbow arthroscopy/arthroplasty, complex elbow and wrist fractures, wrist arthroscopy, hand and wrist reconstruction, trauma/fracture care, and microvascular repair.
Dr. Chen's personal interests include camping, hiking, traveling, escape rooms, sports and esports, and board games. He is fluent in Mandarin.