Benjamin C Tam, MD
Shoulder Reconstruction & Joint Replacement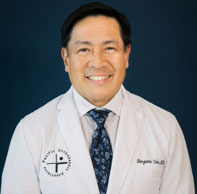 Dr. Benjamin Tam is a board certified Orthopaedic surgeon whose practice began in general Orthopaedics. He initially chose to practice general Orthopaedics because of his keen interest in all aspects of Orthopaedics. His perspective was that a general Orthopaedic practice would allow him to serve the widest range of patients possible while simultaneously fulfilling his desire to be a "complete" Orthopaedic surgeon. Over time, his practice has evolved to specialize in arthroscopic shoulder surgery particularly rotator cuff repair, shoulder reconstruction, anterior hip replacement, and knee replacement.
Dr. Tam was born in Newark and raised in Edison, New Jersey. He graduated with General Honors from Johns Hopkins University with a Bachelor of Science in Biomedical Engineering and a concentration in Biomechanics. He received his medical degree from New York University School of Medicine and performed Orthopaedic biomechanical research at the Hospital for Joint Diseases. He then came to Southern California where he completed a General Surgery internship and Orthopaedic Surgery residency at UCLA Medical Center.
Dr. Tam is currently the president of Pacific Orthopaedic Associates. He has served as chief of surgery at Alhambra Hospital and chairman of the Orthopaedic subsection at San Gabriel Valley Medical Center. Over the years, he has given numerous community lectures on various Orthopaedic topics, such as rotator cuff injuries and hip and knee replacement. He is a Fellow of the American Academy of Orthopaedic Surgeons and a member of the California Orthopaedic Association, Western Orthopaedic Association, and Los Angeles County Medical Association.
Dr. Tam's approach to patient care has always centered on patient education. He values a relationship with his patients based on mutual respect, but firmly believes the foundation of that relationship begins with patient education. For this reason, he is committed to educating every patient on his or her Orthopaedic condition, the available treatment options, rehabilitation, and expected recovery. There are often options to treatment other than surgery. Whether or not surgery is being considered, Dr. Tam's exceptional training and considerable experience enable him to provide the best Orthopaedic care possible for his patients in order to achieve a successful outcome.
Outside of work, Dr. Tam enjoys spending time with his wife Irene Ho, MD, who is an internist at Kaiser Permanente, and his son Lance. Physical fitness is one of his passions. He enjoys playing tennis, strength training, cycling, skiing and snow boarding, and when not occupied with one of these physical activities, he likes to read (science fiction in particular).